You're here: Main page > 2.2.3.1. Auxiliary vehicles > Breakdown lorry of the German type DB UNIMOG 427/10



The breakdown lorry of the German type DB UNIMOG 427/10 is using for the shunting and towing of defective buses and trolleybuses.

The vehicle is a 2 axle, four wheel drive. The vehicle is equipped to travel on heavy terrain.

The vehicle has three seats.

It is equipped with 2 yellow warning lights and many different work tools.

The vehicle has a payload of 3000 kg. On the loading area of the vehicle is a ballast weight made of concrete.

The vehicle is equipped with a four stroke Diesel engine with 92 kW performance by 2400 rpm. The four stroke Diesel engine has a capacity of 5958 cm³

The maximum speed is 90 km/h.

Further technical data:

Vehicle length
Vehicle width
Vehicle height
Vehicle height with yellow warning lights

Vehicle weight unloaded
Admissible total vehicle weight
Axle load in front
Axle load in the back

Maximum noise level no driving
Maximum noise level driving

Unbraked towing capacity
Braked towing capacity
4390 mm
2100 mm
2960 mm
3390 mm

4500 kg
7500 kg
4000 kg
4000 kg

92 dB
84 dB

8000 kg
24000 kg


The vehicle may be equipped with tires of the sizes 12,5-20 MPT 12 PR or 12,5R20 MPT 12 PR.

The breakdown lorry have the registration number BAR-CE 981. The vehicle got the first license on 26 July 1989.

The photo show the breakdown lorry in front of the workshop hall at the depot Eberswalde/Nordend.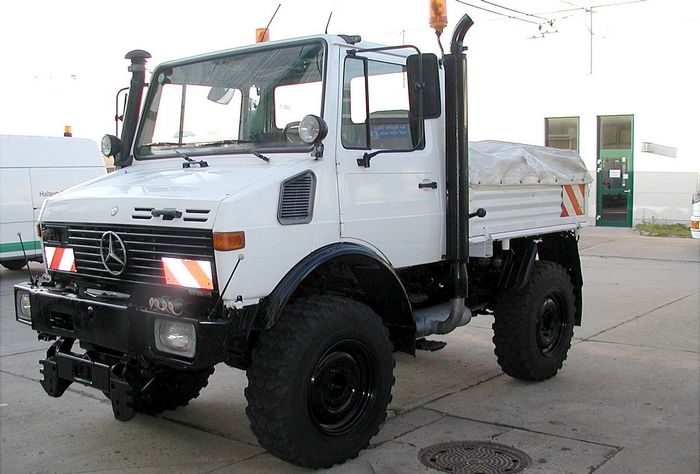 The next photo shows the breakdown lorry in action at the terminal stop Ostend on 07 August 2002. After a lightning into the trolleybus overhead system during a heavy thunderstorm the articulated trolleybus 039 must be towed because of damages to the electronic system and electrical equipment.